WE MAKE MODEL TRAINS FUN!
WE BRING YOUR RAILROAD TO LIFE!
MANUFACTURED IN THE USA
Valid 5/30/20 only. While Supplies Last. Have $100 worth of SoundTraxx product in your cart and the Speaker. Then use code, WEB530 at checkout to get the speaker for free. These are going quick, so act fast!
Spend $100 & get a Free Speaker!
As you may know, we turn 30 this year! To celebrate with you we are having webstore exclusive specials on the 30th of each month in 2020. Today, buy your favorite decoders and you can get a Mini Cube Speaker for FREE! *Use Code: WEB530 at checkout*
Model Railroad Sound Systems
SoundTraxx brings new dimensions in digital sound technology to your model railroad. Regardless of your scale or prototype, we have a sound system for you! We manufacture all of our Digital Sound Decoders in the USA, right here in Durango, Colorado. Our professional sound engineers record and edit our sound files and test our decoders multiple times before we ship to ensure top quality.
We've been designing and manufacturing the latest innovations in model railroad electronics since 1990. Our product lines offer a variety of solutions to help you add new dimensions to your railroad with sound, lighting, and other DCC technologies.
FREE SHIPPING on orders of $50 or more!

On March 25, 2020, Colorado Governor Jared Polis issued Executive Order D 2020 017 ordering Coloradans to stay at home (Stay at Home Order) and CDPHE issued its corresponding Public Health Order (PHO) 20-24 implementing stay at home requirements.
A new Executive Order was issued on April 6, which amends and extends Executive Order D 2020 017 to require Coloradans to stay at home until April 26, 2020.
On April 27, the Governor issued Level 2: Safer at Home. Coloradans are no longer ordered to stay home, but are strongly advised to stay at home.
SoundTraxx is complying with this order while doing everything we can to continue to serve the needs of both retailers and consumers. We have been vigorously practicing social distancing within our facility and many of our employees are working from home. SoundTraxx is committed to ensuring the health and safety of our customers, employees and their families, and to that end we are expanding our at-home workforce to comply with this directive.
In accordance with Minimum Basic Operations, we continue to take orders, perform accounting functions and ship and receive product.
To place an order, click here or call (970) 317-9977 to receive FREE shipping on orders over $50 in the Continental U.S. Please allow extra time for order acknowledgements.
Customer Support can be reached at (970)317-3505 and by emailing support@soundtraxx.com. Please allow additional time for repair services
For retailers required to close your stores temporarily, please contact George, as we have created a Retailer Forum to help you during this difficult time. Please be sure to keep us apprised of your situation, as we are regularly updating this page to assist you in keeping your customers up-to-date.
Watch your email for announcements and stay in touch with us via our social media including Facebook, YouTube, Instagram, and Twitter.
We thank you for your support, patience and patronage. Please be well.
Sincerely,
The SoundTraxx Family
And don't forget to wash your hands before and after playing with your trains!
We've been designing and manufacturing the latest innovations in model railroad electronics since 1990. Our product lines offer a variety of solutions to help you add new dimensions to your railroad with sound, lighting, and other DCC technologies.
"Dear George,
I just wanted to say thank you for all your help and support with my decoders. You are very nice and awesome to work with. George, when it comes to knowing your decoder you the best in business and I have all my locomotives with SoundTraxx decoders and will not have any others in my loco. I have thrown the rest of the decoders in the garbage. Also, wanted to let you know that Josh does awesome job with customer repairs, support and is super easy to work with and his knowledge is awesome too. I want let know that I will be letting everyone know SoundTraxx is the best decoder on market, keep up the awesome work!"
Thanks again
Scott
"Good morning George, we had talked at the O scale meet in Chicago...Well I took your advice and purchased a decoder from one of your suppliers at the show. I installed it in my US Hobbies Mikado and it works fantastic! I could not believe how well I got the chugging synchronized. What a world of difference. I have since already ordered a couple more decoders to start replacing all of the "other" decoders that do not work properly. I just wanted to let you know that is nice to finally have a great working decoder and that you were willing to back them up. A lot of sales people claim their product is great and the best, but you can say that with confidence! Thank you again for your time at the show, I need to get back to changing out some decoders lol."
Best regards, Jeff D.
"Hey Soundtraxx!!!!
THANK YOU !!!!!!!!! Your efforts to assist making PPE Equiptment is Wonderful, and just like all of you, to be helping out The United States, in your manufacturing efforts!!!!! You are the GREATEST!!!!!!!!! CARING....…..COMMPASSIONATE....and.…. PROFESSIONAL!!!!!!! Your PRODUCTS, Your SERVICE, Your EDUCATION, ALL TOP NOTCH! NOW YOU ARE SHOWING YOUR BIG HEARTS!!!! THANK YOU SOOOOOOO MUCH!!!!!!! YOU TRUELY ARE #1!!!!!!!!"
- GARY M.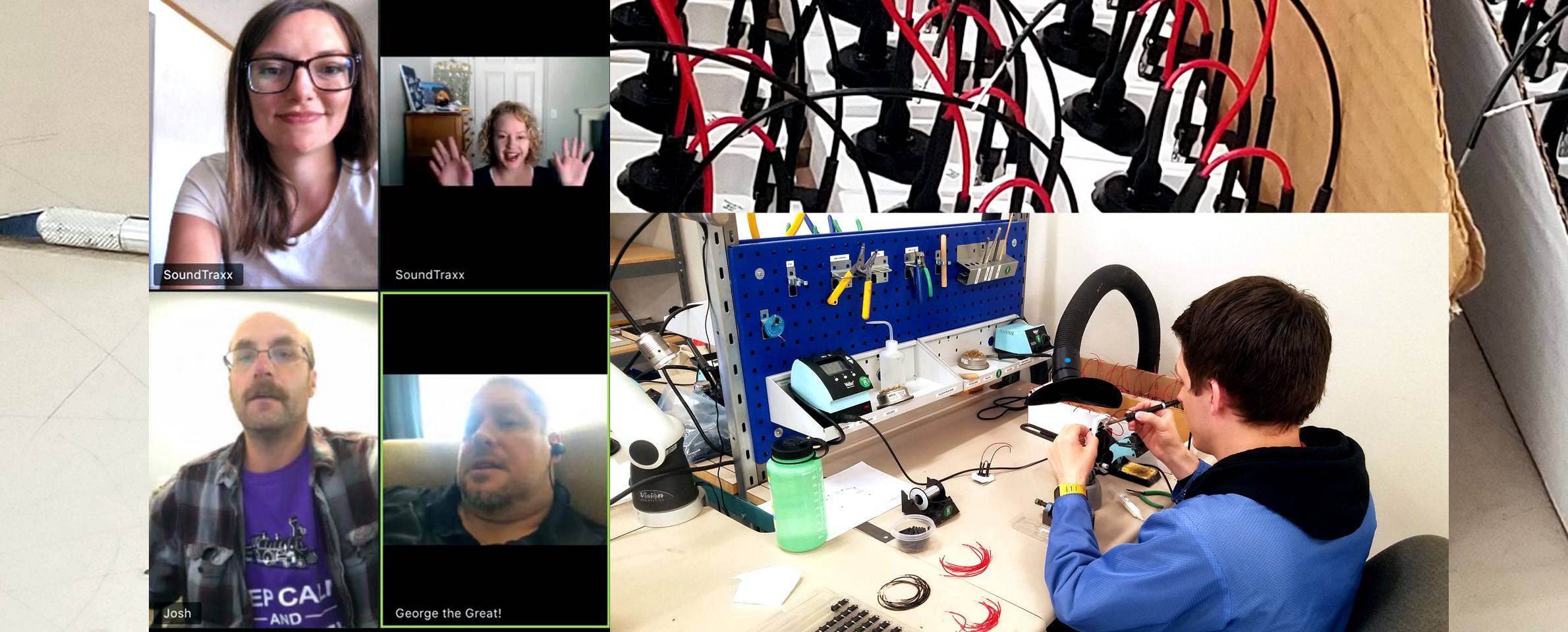 ---