WE MAKE MODEL TRAINS FUN!
WE BRING YOUR RAILROAD TO LIFE!
MANUFACTURED IN THE USA
Black Friday is on the 27th and then our 30th anniversary and Cyber Monday are on Monday the 30th. Therefore, instead of celebrate our 30th anniversary this month with a 1-day sale we are having a 4-day weekend sale!
Get 20% off each Tsunami2 TSU-PNP or TSU-21PNEM 6 function decoder that you buy at SoundTraxx.com 11/27/20 - 11/30/20.
Use Code: Web1130 at Checkout for the 20% Off
Must use code: Web1130 at checkout to receive discount. Valid November 27-30, 2020. While supplies last. Does not apply to 8 function versions of the TSU-PNP or TSU-21PNEM decoders.
Model Railroad Sound Systems
SoundTraxx brings new dimensions in digital sound technology to your model railroad. Regardless of your scale or prototype, we have a sound system for you! We manufacture all of our Digital Sound Decoders in the USA, right here in Durango, Colorado. Our professional sound engineers record and edit our sound files and test our decoders multiple times before we ship to ensure top quality.
We've been designing and manufacturing the latest innovations in model railroad electronics since 1990. Our product lines offer a variety of solutions to help you add new dimensions to your railroad with sound, lighting, and other DCC technologies.
Keep Calm & Play with Trains

With the continuing global health crisis, we want our customers to know that we continue to do what we can to respect the requests of our local and state officials to contain the spread of the COVID-19 virus. We are committed to ensuring the health and safety of our customers, employees and their families, and to that end many of us are working from home and our office is closed to the public.
When we are not making America's Favorite Brand of Digital Sound Decoder, our manufacturing staff occasionally can be found assisting in the production of Personal Protection Equipment (PPE) for our local medical professionals.
Severe Shipping Delays
An unforeseen consequence of the pandemic is unusually slow delivery times for international orders that are traveling through the postal system, anywhere from 30-60 days in some cases. At this time, we cannot recommend the use of the postal service for this shipments. While you may still select this shipping option when you check out, we cannot control the length of time it will take to arrive, and in many cases we cannot provide you with the status of the shipment. We encourage you to select UPS for your order until further notice.
You can place an order at our web store, or call (970) 317-9977. Please allow extra time for order acknowledgements.
Reach Customer Support Cell: (970)317-3505 Email: support@soundtraxx.com. Please allow extra time for repair services.
Watch your email for announcements and stay in touch with us via our social media including Facebook, YouTube, Instagram, and Twitter.
For retailers, please contact George as we have created a Retailer Forum to help you during this difficult time. Be sure to keep us apprised of your situation, as we are regularly updating this page to assist you in keeping your customers up-to-date.
We thank you for your support, patience and patronage. Please be well.
Sincerely,
The SoundTraxx Family
And don't forget to wash your hands before and after playing with your trains!
We've been designing and manufacturing the latest innovations in model railroad electronics since 1990. Our product lines offer a variety of solutions to help you add new dimensions to your railroad with sound, lighting, and other DCC technologies.
"George,
NEVER GIVE UP!!!! Taking off from your comments, the loco ran perfectly with the boiler removed. Your answer was absolutely correct.
Contact between the painted interior of the boiler backhead and the top brush connection on the motor created the problem! I insulated the back of the motor with a piece of Kapton tape and "PROBLEM RESOLVED".
George, you are a great help to the modeling community. Keep up the good work and be patient with us!"
- Matt
"Hey Soundtraxx!!!!
THANK YOU !!!!!!!!! Your efforts to assist making PPE Equiptment is Wonderful, and just like all of you, to be helping out The United States, in your manufacturing efforts!!!!! You are the GREATEST!!!!!!!!! CARING....…..COMMPASSIONATE....and.…. PROFESSIONAL!!!!!!! Your PRODUCTS, Your SERVICE, Your EDUCATION, ALL TOP NOTCH! NOW YOU ARE SHOWING YOUR BIG HEARTS!!!! THANK YOU SOOOOOOO MUCH!!!!!!! YOU TRUELY ARE #1!!!!!!!!"
- GARY M.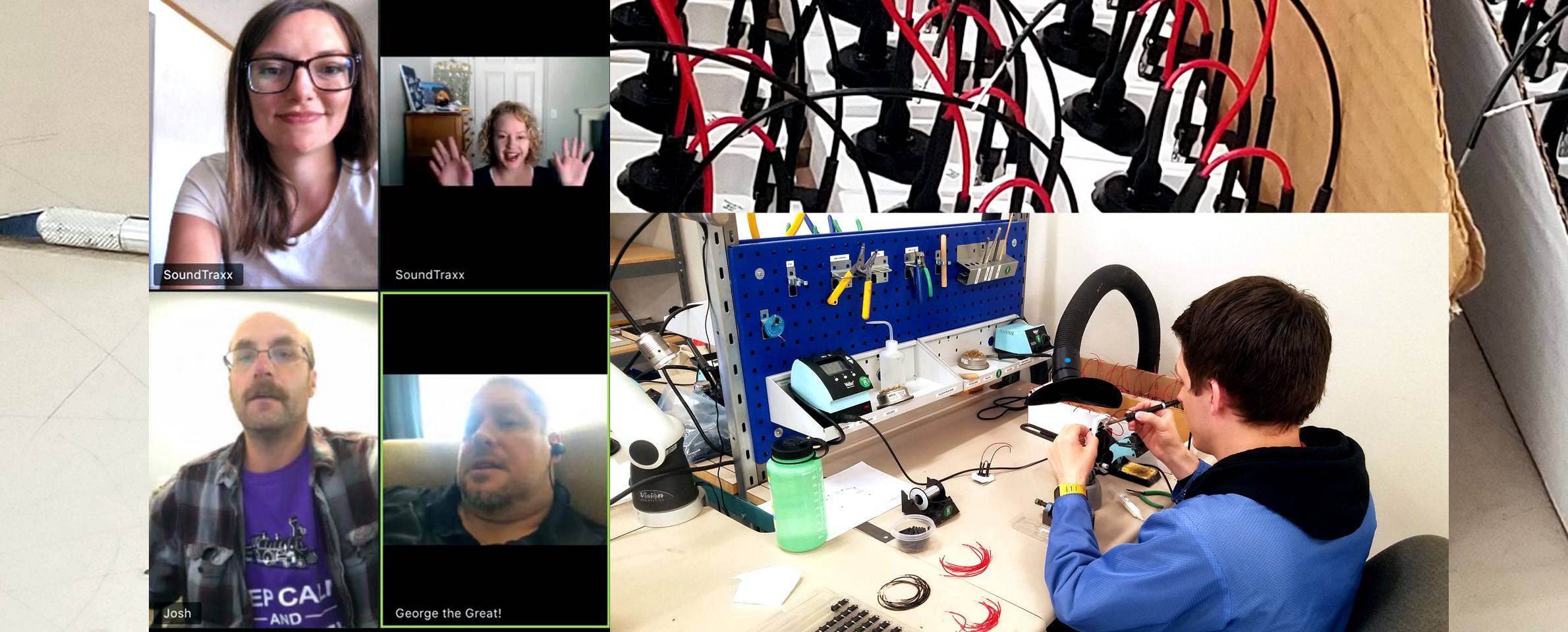 "Just finished watching your steam decoder presentation on NMRA-X and am now looking forward to watching your diesel presentation (frankly, I wasn't going to bother since I have all [other brand decoders] in my diesels - and was happy with them until I saw all the functionality with the new steam decoders. I fear learning about your new diesel decoders may end up costing me some money....)
And also wanted to mention that I am SUPER impressed with how much you know/have learned about steam locomotives and their operation. I worked as a steam locomotive fireman for 3 straight years right out of high school, and as an engineer here and there over the last 30 years and everything you said was spot on. Of course, that gives me TONS of confidence with your decoders."
-Chris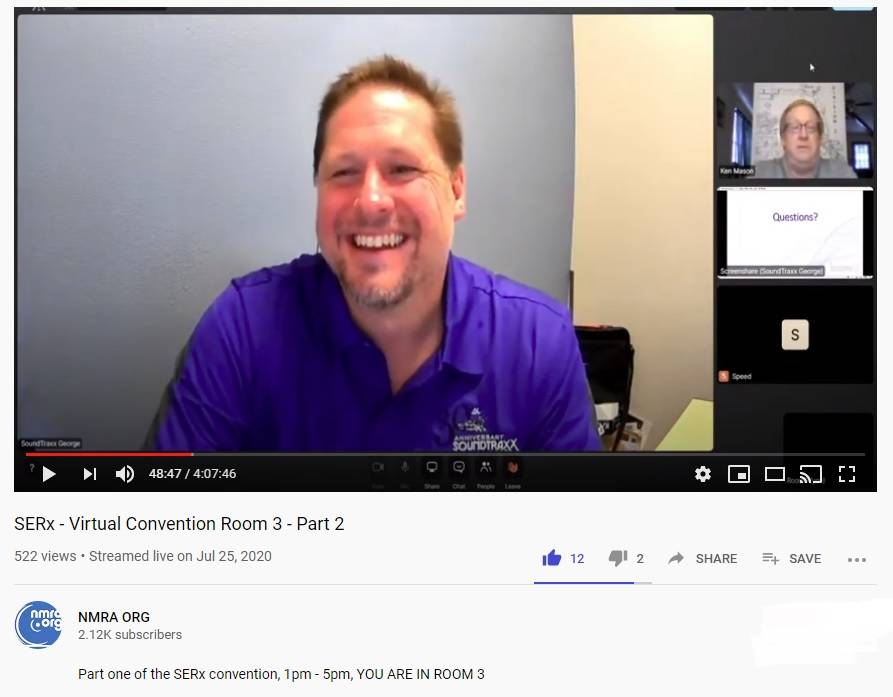 SoundTraxx Presenting Tsunami2 Clinic | Click the image to contact us!
The Steam clinic is at the start and the diesel clinic is at the 3:00:00 mark.
---