Model Railroad Sound Systems
SoundTraxx brings new dimensions in digital sound technology to your model railroad. Regardless of your scale or prototype, we have a sound system for you! We manufacture all of our Digital Sound Decoders in the USA, right here in Durango, Colorado. Our professional sound engineers record and edit our sound files and test our decoders multiple times before we ship to ensure top quality.
We've been designing and manufacturing the latest innovations in model railroad electronics since 1990. Our product lines offer a variety of solutions to help you add new dimensions to your railroad with sound, lighting, and other DCC technologies.
Building excellent products that will make your hobby more fun is our #1 priority. We take several steps to ensure that you end up with a functional decoder every time. And we're not just talking about our top-of-the-line Tsunami2 decoders, but all of our decoders. On top of that, our products feature industry leading featues, top-knotch sounds and all of our decoders are made right here in the USA!
"I recently purchased an Athearn/Genesis Southern Pacific "Commute" GP9 with Tsunami2 sound.
I just wanted to say what a fine job you've done on the Tsunami2 line of decoders; with all the options available and the GREAT sound. I gotta lay out a budget plan to add to or upgrade several of my locomotives. I especially want Tsunami2s in my Steam locomotives for your DDE Sync feature." - Daniel C.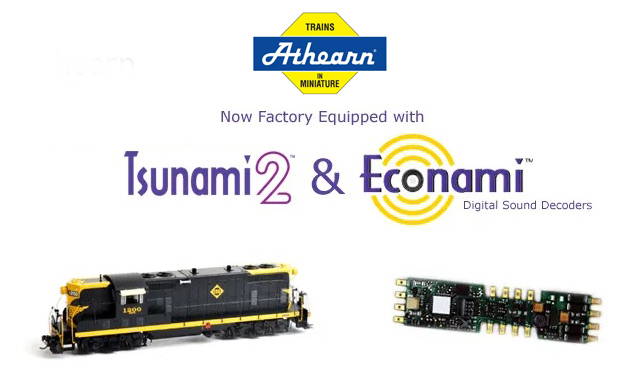 Click to learn more about Factory Installed Decoders
"By the way, after attempting to read the [other decoder] documentation, which is nearly impossible, with their small print and no logic for customers, I found all Soundtraxx Documentation exceptional and easy to follow. If for no other reason, that is the most compelling for me to have become a Soundtraxx customer for life!" -Chris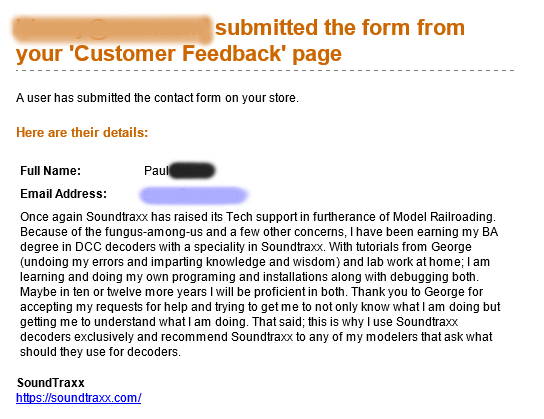 " Yes [I], have experienced 'Confused Decoder Syndrome' with all brands. So far have found the Soundtraxx Decoders to be the easiest and most logical to understand and adjust. They can be adjusted to how you want your Loco to run, not to how the Manufacturer thinks it should run. I use the Ops mode mostly as it gives immediate feedback on adjustments. Some Decoders limit the use of Ops mode. Many use computer programs to make CV changes but this can be more time consuming than a quick adjust in Ops mode. Like putting a car on a Dyno when you want to check the tire pressure." -Dennis

Keep Calm & Play with Trains

We want our customers to know that we continue to do what we can to respect the requests of our local and state officials to contain the spread of the COVID-19 virus. We are committed to ensuring the health and safety of our customers, employees and their families, and to that end our office remains closed to the public. We are, however, all back working in the office and the best avenues to reach us are either by the most appropriate email address noted on the Contact Page or by calling (970) 259-0690.
We continue making America's Favorite Brand of Digital Sound Decoder while we address the next crisis, the global shortage of electronic components and other manufacturing supplies. This affects all manufacturers and nobody knows when the pipeline of parts will become more stable. SoundTraxx will take all necessary steps to reduce the impact to our product deliveries.