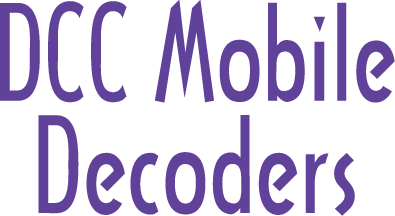 SoundTraxx DCC Mobile Decoders
Equip your fleet with DCC without breaking the bank! SoundTraxx DCC Mobile Decoders provide high-performance operation and 14 Hyperlight lighting effects in a variety of easy-to-use formats for models that do not exceed a 1-amp stall current. Since they utilize our Hyperdrive technology, these mobile decoders are easy to speed-match with Tsunami Digital Sound Decoders.
HO-scale, 4-function decoder with a 21-pin connector that easily plugs into the factory-installed PCB of many models. This decoder will operate in DCC only.
Dimensions: 25.1 x 15.6 x 4.7mm
Max. Motor Stall Current: 1A
Max. Function Current: 100mA (each output)
Function Outputs: 4
DCC Track Voltage: 21 Volts Maximum
The 2-function MC1 Series DCC Mobile Decoders fit in many small N and Z-scale models. The dual-mode MC2 Series DCC Mobile Decoders have four lighting outputs and support CVs 5 and 6 to allow for optional three-point speed curves.
In addition to offering a selection of 14 Hyperlight lighting effects, options include a choice of directional or Rule 17 lighting control, grade-crossing timers, adjustable flash rate, and an LED brightness correction control mode.
The SoundTraxx Hyperdrive Motion Control System, which is found in all Tsunami Digital Sound Decoders, incorporates advanced motor control features such as high-resolution speed steps and high-frequency PWM drive (pulse-width-modulation) to help eliminate motor 'hum'. Hyperdrive also includes such features as programmable speed curves and adjustable momentum.
All formats are compatible with NMRA DCC Standards and Recommended Practices, and are manufactured in Durango, Colorado.
DCC Mobile Decoder Resources