SoundTraxx Product Repair
Before sending any SoundTraxx item to the factory for repair, please read our Troubleshooting section as there is often a simple solution to the problem. If you are still experiencing problems please contact our customer Support Staff. If it has been deemed necessary to return your item, please follow the steps below:
How to send a serviceable product to SoundTraxx
Before returning your decoder, please read the Service Request Form carefully to determine if your product is eligible for repair. Please read the Digital Sound Decoder Warranty Policy for more information regarding the SoundTraxx 90-Day 'Safety Net' Warranty. Under no circumstances should you return your locomotive to SoundTraxx.


Fill out our Service Request Form and include it with your product. Please include a daytime phone number and fill out the form completely as this allows our technicians to more quickly isolate the problem and perform the necessary repairs. If your product is within our 90 day warranty please include the original receipt. If your product is outside of our 90 day warranty period please include a method of payment.


Carefully package your product for shipment with postage paid and insured. Always take care to insure your package as SoundTraxx is not responsible if your items are lost or damaged in transit. Product received in unacceptable packaging will not be accepted and will be returned to sender without any services performed. Important! Return only the repairable product. Under no circumstances should you send your locomotive, speaker, or accessory as we cannot assume any liability for their safe return.



Ship your return package to:




Attn: Customer Support Center




SoundTraxx




141 Burnett Drive




Durango, CO 81301
Unacceptable Package: Mailed in a No. 10 envelope, no protection for decoder pins and no insurance. Unacceptable packaging will result in the package being returned to the sender without any services performed.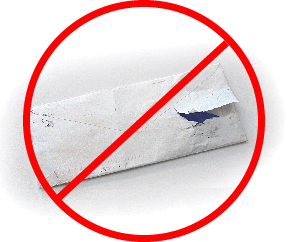 Acceptable Package: Packaged in a protective box and insured. Reminder: sometimes markers will 'bleed' in the rain - put a piece of clear tape over the address to protect it!