Factory Installed Decoders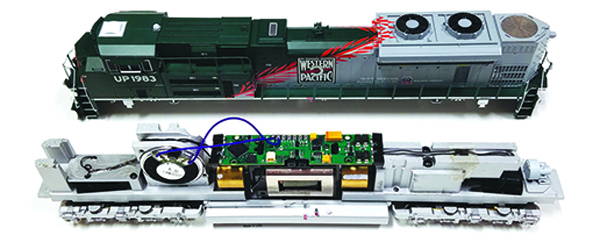 SoundTraxx has been designing and manufacturing superior sound products for 20 years! It is no wonder then, with our reputation in the industry and our proven longevity that our products can now be found installed in a variety of quality models. If you are already a SoundTraxx customer, you know the added value we bring to the model.
If this is your first experience with our products, there are a few things you should know:
We partner with some of the finest model manufacturers in the industry to provide the best product we can within the confines of their specifications.
Factory installed Tsunami, Tsunami2, or Econami Digital Sound Decoders, while manufactured and designed by SoundTraxx are made to order according to a set of specifications provided by each model maker. Therefore, specific sounds, number of functions, sounds and lighting effects for these decoders will differ based on manufacturer.
In 2017 Athearn is leading the way by releasing its first models factory equipped with our premium line of Tsunami2 Digital Sound Decoders. Learn more on our Athearn page!
Most manufacturers are installing a 'Tsunami Technology' Digital Sound Decoder into their models. This may mean slightly different things to different companies. 'Tsunami Technology' means that these manufacturers have elected to use a digital sound decoder based on our original Tsunami 16-bit Digital Sound Decoder. These decoders operate in both DC and DCC modes and provide many advanced motor control features and a variety of sound effects for your model railroad.
If you have questions or need support, it is best to begin with the model manufacturer. They have been trained, by us, to help you and are in a better position to determine whether your question is model or decoder-related.
How do I change the volume on my Tsunami sound-equipped locomotive?
Tsunami sound-equipped locomotives have independent volume control for every single sound effect on the decoder as well as a master volume CV. CV 128 is the overall master volume and has a volume range of 0 to 255. A value of 0 mutes the decoder, while a value of 255 sets the overall value to 100%.
Who handles the warranty and repair of my Tsunami sound-equipped locomotive?
While SoundTraxx will assist in answering any technical questions and troubleshooting for a customer who has purchased a locomotive with Tsunami sound on board from a manufacturer other than SoundTraxx/ Blackstone Models, the actual warranty and repair work is handled by the locomotive manufacturer.
DCC is an acronym for Digital Command Control. DCC allows a modeler to run multiple trains with one operating system that follows an industry standard. Layouts using DCC are operated using a Command Station. For more information please visit the NMRA website at www.nmra.com and navigate to the section on standards.
DC stands for direct current. DC is operated by using a traditional power pack to run your locomotives on a layout. The speed of the locomotive is determined by how much the voltage is increased. The direction is determined by the polarity. All locomotives running on the track will run the same direction and receive the same amount of voltage. Tsunami equipped locomotives can be run on DC.
How do I know if my model has a Tsunami installed in it?
When placing your locomotive on the track for the very first time on a DCC equipped layout you should hear the background sounds right away when power is first supplied to the rail. On a DC layout you will first hear sound at around 6 volts. The box will also state that the locomotive is equipped with sound on board.
Yes, all Tsunami equipped locomotives can run on both DC and DCC. To operate your models on DC simply increase the power pack to around 6 volts. You should hear the background sounds start up. As you increase the voltage to 8 volts you should see the model begin to move.
How many horns/ whistles come with my Tsunami equipped locomotive?
All Tsunami equipped locomotives come with a list of multiple whistles or air horns. The range of whistles/horns varies between 3 to 8. To see the complete horn/whistle listing for your model you will need to go to the SoundTraxx-provided manufacturer page. Each manufacturer page includes a list of the models that have been sold with Tsunami sound installed. Further, each model has a list of settings and features as shipped from the factory. Start by selecting the manufacturer from the list at the top of this page.
Can I buy the same decoder found in my new locomotive to install in others?
The factory-installed locomotives contain decoders unique to each locomotive according to the manufacturers exact specifications. SoundTraxx Tsunami line comes in many different board arrangements and all of the models that come factory installed with sound can have a Tsunami added after purchase. To learn more about the correct decoder for your locomotive go to the Decoder Selector.
Is the decoder in my model a "Full Tsunami"?
All factory-installed locomotives contain custom decoders designed to meet the specifications set forth by their manufacturer. They contain the same software found in the Tsunami, including multiple whistles/horns, industry-leading 16 bit digital sound, and many other great features. Some features may be limited by the manufacturer's specification.
---
Here is a list of manufacturers who use our products as their sound system of choice in some or all models. Wherever we can, we have provided the product documentation (not all documentation is written by SoundTraxx). We hope this helps you to understand the differences between various decoder models.